"Believe It! People
Do Abandon Real Estate!"
Are you wondering, "Who would be crazy enough to abandon property?" A little research shows there are dozens of reasons. Among them:
A person may become drug addicted and lose all sense of responsibility.
Someone with no close relatives could disappear in a foreign country.
Mental illness might turn someone into a street person and they would never return to owned property.
There are those who just don't seem to care about possessions and might just walk away from any inherited real estate.
Yes, I know abandoned property doesn't seem rational, but you have to admit you see irrational behavior every night on the TV news! The point is that there truly is real estate that has been abandoned! Free real estate!
Here's a bit of luck. In many countries abandoned real estate would become property of the government. Thankfully that is not yet the case in the U.S. The founding fathers felt strongly about private property rights and at least some of that philosophy endures to this day.
An important instrument of property rights is the law of adverse possession. It keeps real estate in private hands.
"Very Real - Very Profitable"
No tricks, no scams! Once you understand the simple details of adverse possession law you realize that the power to claim free real estate is within the reach of anyone. The key is to have a system embracing the three golden steps:
How to find the property.

How to legally claim the property.

How profit from the property.
"Exclusive System!"
Based on my research discoveries I have created a system that provides a step-by-step plan for finding and gaining title to abandoned property under the law of adverse possession.
There are adverse possession laws in every state and the requirements of each are similar, so the opportunity is waiting for you, where ever you live!
"I'm Offering My Personal System!"
I've put my very own complete system for adverse possession into a manual I call "The Last Great Real Estate Secret". It is such a straight forward, easy to learn system that I have been able to explain the entire process in under fifty pages.
You will learn:
Where to look for abandoned property.

How to identify profitable property.

How to investigate ownership.

The exact procedures required by the law.

Multiple ways to profit.

How to determine property value.

How to establish title.

How to turn problems into profits.

Tricks to establish adverse possession.

...and much more!
"Easy Road to Wealth?"
Honestly, adverse possession is not for everyone! It is a time consuming project. You have to get out and spend time following my system for finding target properties. Once identified you have to spend more time making a skillful attempt to find owners.
Many times you will find a property that has all the appearances of being abandoned, but your research uncovers an owner. Then you must go back to searching. (Although there are ways to profit even then.)
When you do find an acceptable property it probably will need at least clean-up and some fix-up.
Let me be frank. I am at a financial stage of my life where I don't have to spend time looking for free real estate. But this information could speed you toward financial freedom!
"Is The Last Great Real Estate
System Right For You?"
Who should consider investing in my amazing, free real estate discovery? Should you jump at the opportunity to learn the secrets of profiting from abandoned property?
The question you must ask is, "Should I invest in myself?"
Your answer should be, "The more I learn, the more I earn."
If you are trying to get started in real estate investing and you have more time than money, than this system is for you.
Think of the profit power of finding just one rentable property per year. You'll have no mortgage! No qualifying, no points, no closing costs and best of all - no monthly payments! The cash income goes right into your pocket! Or you could live on the property.
"New Power for Every
Real Estate Investor!"
Another who might profit from this exclusive knowledge is any real estate investor who is actively seeking profitable deals. You are constantly driving through town checking properties. If you understand how to spot a possible abandoned property you will maximize the profit potential of every minute spent in your searching.
Few real estate investors understand the wonder of adverse possession. You will have a real advantage over all others.
"Effort is the Price
of Success!"
Let me emphasize that there really is free real estate, but there is no free lunch. You won't find it around every corner. You have to get out with The Last Great Real Estate Secret manual in hand and look for it!
If there were no such thing as abandoned property would there be an adverse possession law? Of course not. It's real and the opportunity is around you if you will train yourself to see it.
"Get It While You Can!"
No one has every offered a complete adverse possession profit system like this one. It is my exclusive! You can only get it from me!
You may never locate this Internet page again. Please give yourself a chance at success and order right now, during this visit. My guess is that you don't need another missed opportunity in your life.

"I Guarantee It!"
When you invest in this manual you are investing in your future, but I insist that you do so at my risk! I want you to order this amazing system with complete confidence, so I am pledging an 30-Day, Money Back Guarantee!
Now that's incredibly fair! A 30-Day Guarantee! Unheard of - except here! All I ask is that you really try it for three months. Just devote 3 or 4 hours per week and I think you will amaze yourself!

Free Bonus!
Wait, there's more! If you will order right now, I will include a Free Bonus copy of my profit manual "Go Where The Money Is!"
This manual lays out a clever plan for buying investment real estate outside of your home area. It is a practical system that lets you go where the bargains are. Valuable to any investor, but especially for those living in areas with limited opportunity. This can open up a gold mine of potential profits!
Free Bonus #2
And to make this just too good to pass up, you will receive "Mini-Storage Auction Profits". This little gem of a manual targets a surprising method for making some extra money in your spare time. It is something you're not aware of and yet you will find it to be fun and profitable.
It will be yours if you order today!

"Big, Fat Bonus Package!"
By giving me a few moments to tell you about my discovery you have demonstrated your desire to join the circle of winners.
As an extra "thank you" I want you to have the following:
Membership in the Cash Flow Institute Investor Club. As a CFIIC member you will be entitled to,

An email subscription to The Power Letter - our monthly newsletter,

Periodic Email Alerts - timely tips to keep you informed & motivated,

Email Privileges. Email your problems or questions to CFI and we do our best to find an answer.
Take a careful look at the long list of all that will be yours. And remember, you get this entire package for about the same cost as two dinners at the Red Lobster restaurant. If you sincerely want your life to be better one year from today, which do you think has the most value?
1. "The Last Great Real Estate Secret" manual.
2. Go Where The Money Is" manual.
3. "Mini-Storage Auction Profits" manual.
4. Investor Club Membership.
5. The Power Letter Subscription.
6. Email Question Privileges.
7. Investor Email Alerts.
8. 30-Day Guarantee.
There! Youíve heard my story and now itís up to you. Are you ready to invest in yourself and take a shot at financial independence?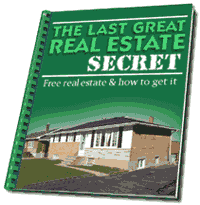 Have you been in a financial rut? Are you finally prepared to take a giant step toward a successful new life? Think how proud your friends and family will be of you!
Do it now! Jump-start your exciting new future with just one click!
****************************************************
"Last Great Real Estate Secret"
You have 3 Special Packages to
Choose from...
Good Deal #1

PDF EBOOK Immediate Download

EBOOK with Bonuses!
$39.97

Click Here for Secure Order
Great Double Deal #2

PDF EBOOK Immediate Download

CDROM - Includes Forms in Word Format Ready for You to Customize & Print! ( sent by US Priority Mail )...

EBOOK & CDROM with Forms & Bonuses!
$49.97

Click Here for Secure Order


Best Triple Deal #3
PDF EBOOK Immediate Download

CDROM - Includes Forms in Word Format Ready for You to Customize & Print!
( sent by US Priority Mail )...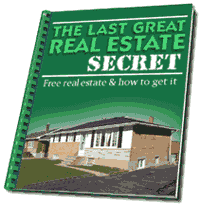 PRINTED MANUAL!
( sent by US Priority Mail )...
EBOOK, CDROM with Forms
& PRINTED MANUAL & Bonuses!
$59.97

Click Here for Secure Order


****************************************************
Click Here To Order Now





Internet order system tested and secure!
****************************************************
Note: All materials are based on U.S.A. laws, customs and conditions. We cannot
guarantee their effectiveness in other countries.


* 30 days money back guarantee is for returning book and CD within 30 days in good condition. Ebook is not covered by that.
---
Home • Courses • Contact Us • Income Properties For Sale • Links • Advertise • Affiliate Program

Copyright © 2001 - 2003, Buy Income Properties, Inc. All Rights Reserved. Privacy Policy in Observance.