"Try it for 30 Days!"

Yes, I want you to have this amazing information. But I will only let you buy if I take the risk, so here is my offer.....

Invest in the ebook and if at any time in the next 30-Days you feel that you have not received valuable knowledge we'll give you a full refund of the purchase price. No question asked!

See, you take absolutely no risk. Think about it! You just can't lose with a 30-Day Guarantee! And our Internet order system is tested and completely secure.



"Find HUD Home Bargains!"



Can you really do that? Yes, you can! All across the country, a dedicated army of small investors are hard at work building wealth with HUD homes.

These are just ordinary people making their dreams come true one little deal at a time. If they can do it, so can you!

Some call this creative real estate investing. I call it smart investing.

"Offer Cancelled?"

We Must Reserve the Right to Withdraw This Offer at Anytime!"



Yes, things change fast on the Internet. We may be forced to change the price or terms, or completely drop this offer. And... you may never find this page again, so order now, while you can.

We are offering this valuable information as an EBOOK, so that you can be reading it today!

Downloading this EBOOK is super easy because it's all self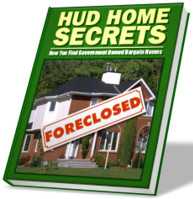 contained. You don't need any special programs to open the book. Just download it to your desktop, click the ebook icon and like magic your SIX-PART EBOOK opens and is ready to read.
It's all written in a style that is very easy to understand. There's nothing else to buy and you need no special education to put the information to work. The full price is really just pocket change:
Full Price Just $19.95!
Don't be fooled by the low price. "HUD Home Secrets - How You Find Bargains In Government Owned Homes!" is a complete, easy to understand guide for profitable HUD home buying . I've packed it with the details you need to avoid mistakes. Once you've got it, well you've got it all!
HUD wants you to buy these homes! Now you will know the smart way to do it.