"The Insider's Profit Track!"
Yes, some of these homes may need some fix-up work. Often the owners were old and sick during the last years of their lives. But when you're buying probate real estate at a discount of 20% to 50% who cares? There's plenty of money to cover minor repairs.

You'll have the inside track on probate real estate profits, because most investor just don't know about these bargain opportunities. Everything seems to be hidden under the robes of the Probate Court, unless you know the secret. That's what you'll learn in "PROFITS IN PROBATE REAL ESTATE":

How to find new probates.
How to know who to contact.
How to discover if there is real estate in the estate.
How to avoid judicial approval
How to avoid court delays in buying.
How to structure your offer to buy.
People die every day in every city and every corner of every state, so you have an almost unlimited supply of probate opportunities - right there near your home!


"An EASY System!"
Look, it's really very simple once you understand what goes on in a probate. With the 'PROFITS IN PROBATE REAL ESTATE" guide you never go to court and you never talk to a judge.

That's the number one secret. How to deal one-on-one with the heir who is in control of the estate. That's the guy or gal who wants to sell as quickly as possible. And it can be done outside of the court's influence...when you know how!

When you control probate real estate you can flip it for quick profit or keep it as a cash-flow-producing rental. Or you can use this powerful information to buy your own lovely home.
And yes, you can use most any creative real estate technique just as you would with ordinary property.
"Yes, My Personal Guarantee!"
"PROFITS IN PROBATE REAL ESTATE" will be your guide to hidden profits. It's an easy to understand e-book that's written in plain language. There's nothing else to buy and you will be ready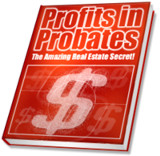 to get started immediately after you've read through the guide a time or two.

30-DAY GUARANTEE! So that you can order the guide in complete confidence I want you to have my personal, FULL 30-DAY GUARANTEE! See, you take absolutely no risk. Try it for a full 30-days. If you're not happy, I'm not happy and I will refund your purchase price no questions asked! Now that's a no risk offer!


"AM I CRAZY?"
I know others charge lots more for this kind of inside information, but I want every interested person to have a copy. With 3-MILLION probates there's plenty of profit for all of us. So I've priced "PROFITS IN PROBATE REAL ESTATE" at a super low..
Full Price Just $19.95
0

"Can This Low Price Last?"
As you can imagine friends say I'm goofy for selling the guide for just $19.95. And, yes, I am considering raising the price. BUT right now you can get it for just $19.95, so what are you waiting for?
Your Purchase May Be Tax Deductible!
There! Youíve heard my story and now itís up to you. Are you ready to invest in yourself and take a shot at financial independence? At just $19.95 and a full 30-day guarantee, what've you got to lose?
Hey! Don't let that low price fool you! The guide is packed with everything you need to know. I cut out the fluff. That saves us both time and money!
Do it now! You're just one click away from your exciting new future. Click Now!
Click Here for Secure Order Form





Internet order system tested and secure!
Note: All materials are based on U.S.A. laws, customs and conditions. We cannot
guarantee their effectiveness in other countries.




---
Home • Courses • Contact Us • Income Properties For Sale • Links • Advertise • Affiliate Program

Copyright © 2001 - 2003, BuyIncomeProperties.com. All Rights Reserved. Privacy Policy in Observance.