The hottest topic in real estate investing today is SHORT SALES. This is a technique that will allow you to make large profits buying preforeclosure properties with zero equity. That's right, make big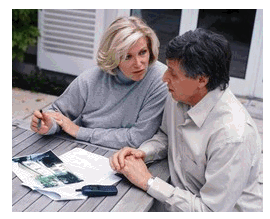 money with no equity homes!
Foreclosures are skyrocketing, so there is a huge opportunity for every investor that understands loan mitigation, loan discounting, short sales, forbearance and loan recasting. In the new CFI manual...
..... we lift the veil on all the secrets of Short Sales, so you can put them to work in your preforeclosure investing program right now.
The economy is at a stand still. Tens of thousands are losing jobs. Lenders are swamped with foreclosures. The big news is "banks don't want to own houses." They will listen to offers on loan payoffs. Savvy investors can cash in BIG!
Banks are in the business of lending money not owning thousands of homes. Once they file a foreclosure action on a home they are now willing to accept a loan pay off with up to a 50% discount!
Do you get it? If you find a home owner facing foreclosure and there is a mortgage balance on his home of, say, $90,000 - the bank may accept a payoff of $45,000 to $70,000. During this current financial crisis that's happening hundreds of times every day. You can by a $100,000 home for as little as $50,000!
Yes, you really can buy homes with huge, built-in profits.... if you know the tricks and secrets of a Short Sale deal.
In SHORT SALES - A GUIDE FOR FORECLOSURE INVESTORS you'll learn exactly how to do discount loan deals. Who to call, what to say, what to offer, how to frame the offer, what's needed to support the discount offer and all the ways the banks will consider settling the loan for far less than the outstanding balance.
There are so many of these breath taking deals being made now that banks have established special departments that do nothing but negotiate them!
This is a fantastic opportunity and the window of incredible profits is RIGHT NOW! Soon the economy will begin to recover, foreclosure rates will drop and banks will no longer be motivated to deal.
There's no time to waste! This easy to read, easy to understand manual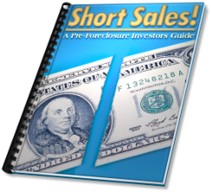 lays it all out so you can get started immediately after reading these exciting instructions.
Dynamic profit opportunities like this only come along once every decade. Don't be left out. Order your Short Sale manual right now! Just click and wait a moment for the order page to appear.

****************************************************
"Short Sales"

You have 3 Special Packages to Choose from...


Good Deal #1


PDF EBOOK Immediate Download
$37.00

Click Here for Secure Order
Great Double Deal #2

PDF EBOOK Immediate Download

CDROM - ( sent by US Priority Mail )...


EBOOK & CDROM
$47.00

Click Here for Secure Order
Best Triple Deal #3
PDF EBOOK Immediate Download

CDROM - ( sent by US Priority Mail )...



PRINTED MANUAL
( sent by US Priority Mail )...


EBOOK, CDROM & PRINTED MANUAL!
$57.00

Click Here for Secure Order

****************************************************
Your Purchase may be Tax Deductible!
Click Here To Order Now




Internet order system tested and secure!

****************************************************

Note: All materials are based on U.S.A. laws, customs and conditions. We cannot
guarantee their effectiveness in other countries.



---
Home • Courses • Contact Us • Income Properties For Sale • Links • Advertise • Affiliate Program

Copyright © 2001 - 2003, Buy Income Properties, Inc. All Rights Reserved. Privacy Policy in Observance.