"Renters Want Good Homes!"

This is important. You want tenants who will make you rich without bothering you with minor problems. And, believe it or not, this plan will do exactly that! You'll love this part!

Single family homes grow in value. This is so sweet! Right now, you can buy a home with a FHA loan for about zero to a 3% down payment. That's $zero to $3,000 on a $100,000 home!

Can you believe that? You can control a $100,000 asset with $zero to $3,000 in up front cash. Believe me that is just not possible with any other sensible investment. That's the kind of leverage that will rocket your progress towards financial freedom!

Listen to that again! "Institutions are lining up to loan you hundreds of thousands of dollars!" That just doesn't happen with any other investment. That's why so many small real estate investors have gotten rich investing in sweet little rental homes.

The Single Family Homes manual(CD or Ebook) will show you how to buy with a minimum of your own cash and then the tenant's rent will more than make the mortgage payments. Get it? Tenants can make you rich!

But that's not all. While the tenant is paying down your mortgage, adding a little to your net worth every month, the value of the home is increasing. Debt goes down, value goes up!

In our rich economy good homes in good neighborhoods have a history of climbing in value every year. Your net worth goes right up, too. On top of all of that you get a nice little chunk of tax shelter every year. Don't you just love that !

"Get Rich While You Sleep!"



Pay attention now. The key is to just keep at it! Persist in working the Single Family Homes plan for a few hours each week. Soon you'll have a nice little collection of homes. And POW!....they'll just sit there making you a little richer every minute of every day ~ even while you sleep! Kicking out money that you can put into your pocket!

I want to make sure you don't miss this simple concept, so I'm going to say it again!

"All you have to do to reach financial freedom is buy one or two nice houses each year for the next five to seven years ~ in your spare time! You will then control about one million dollars in real estate assets!"

At that point, the four benefits of home investing become astounding:

* Renters are paying down each mortgage.
* The value of each home is increasing.
* Your tax shelter is becoming more meaningful.
* Rent increases are giving you more spendable cash. * Near zero management with my plan.

Combine all of those financial benefits and you will find that you are getting at least a 14% return on the total value of the homes you own. What's 14% of one million dollars?

How does $140,000 per year sound? Yes, that's how your net worth can grow every year with this simple, little single family home, real estate investing plan.



"Find Bargain Homes!"



Can you really do that? Yes, you can! All across the country, a dedicated army of small investors is hard at work building wealth with single family rental homes.

These are just ordinary people making their dreams come true one little deal at a time. If they can do it, so can you! This easy to follow system will be your detailed guide.

With your copy of "Single Family Homes - The No Risk Investment" you will learn that you make your profit when you buy. If you don't make a good purchase, you won't be able to get to positive cash flow and positive cash flow is a must!

It's real simple when you think about it. You want money coming into your pocket, not going out of it!

With the system, you will know exactly how to find the sellers that are motivated to help you buy their homes. You will find that they may loan you money, or sell to you below market value, or allow you to delay paying them the purchase price and many other profitable techniques.

Some call this creative real estate investing. I call it smart investing. These are the gems of knowledge I picked up from dozens of different sources over the years.

Yes, there really are people who are anxious to give you a good deal. Maybe they've lost their job, or been transferred, or are getting a divorce, or any one of a dozen other unfortunate situations.

They need to sell their home right now! They'll help you solve their problem if you will just show them how it can be done.

That's what this plan cleverly explains.

You can buy and manage homes very nicely in just three to four hours every week. This is a practical real estate investing plan designed for someone like you with a busy life.

The plan allows you to slowly but surely move towards financial independence, while still attending to your normal responsibilities.

This is a "sleep good" real estate investing plan, because it gives you nothing to worry about!



"The Money Just Gushes In?"



Get rich quick? Oh, no! It takes a year or two to get rolling. But it is a step-by-step, can't fail plan that stresses low risk real estate investing.

You'll never get an ulcer with this system. Anyone can do it young or old, male or female.

The difficult job in constructing any real estate investing plan is doing it the first time. That's when you go through the school of hard knocks. I've done that for you. Now you can just fire-up the system and get to work!

"Single Family Homes ~ The No Risk Investment" is a complete, easy to understand system for profitably buying and renting single family homes. I've packed it with the details of the practical system I've developed over the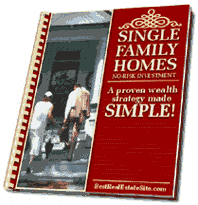 years, so that you can avoid the mistakes I made.
Others sell pie-in-the-sky information for hundreds of dollars; I am offering you this opportunity for the price of a nice dinner and a movie. Hey, you spend more than this on sneakers, so don't tell me you can't afford to invest in your future.

Let me assure you this is a complete step-by-step plan that will quickly guide you up Success Avenue. Everything is in the manual. You don't need any prior education. You won't have to buy anything else. Once you've got it, well you've got it all!